Our menu
A Selection of Quality products
from our area to satisfy every palate.
What the "Littorina del Mincio"
offers you is a blend of goodness
and simplicity.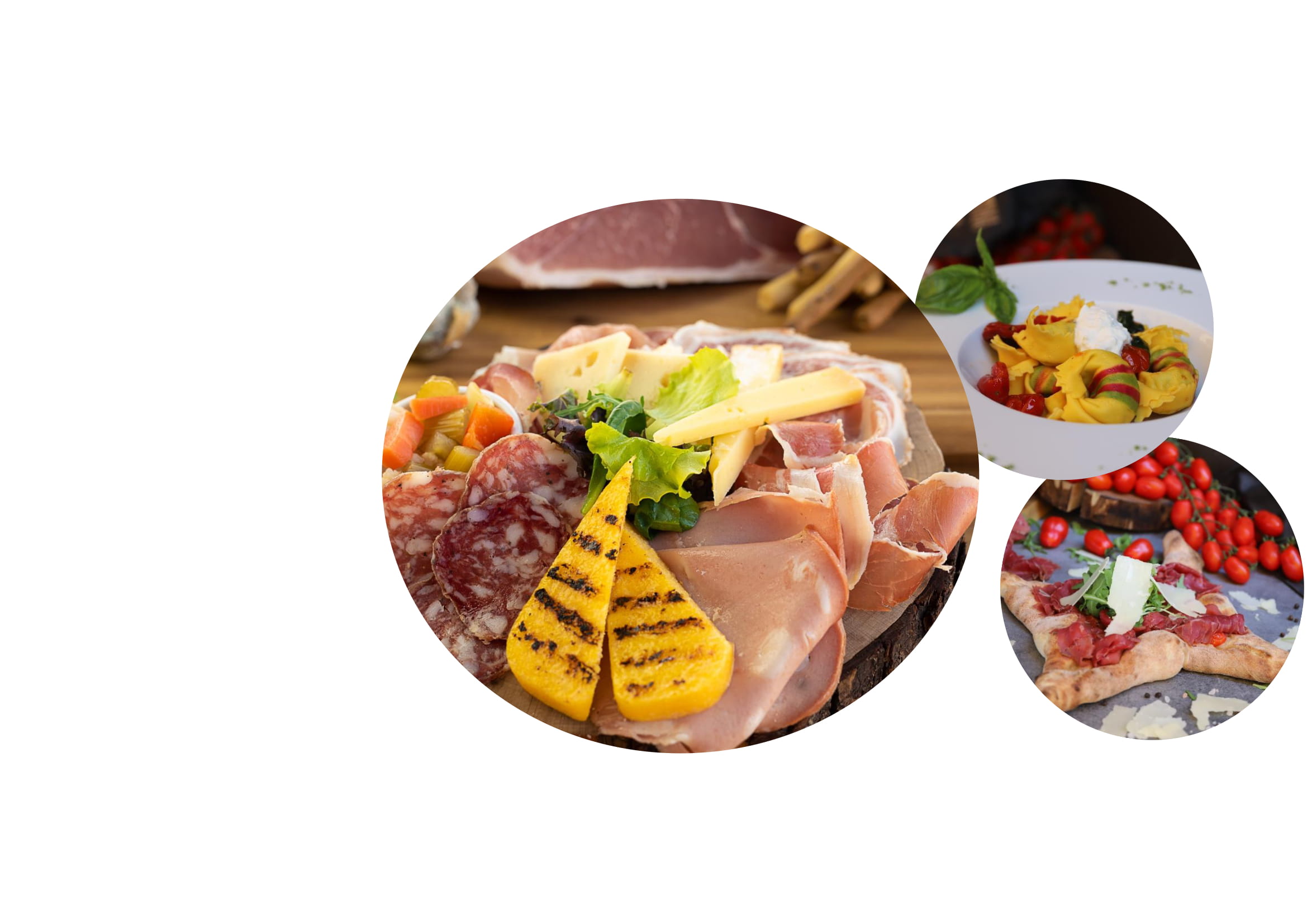 Starters

LITTORINA PLATTER
Mixed cold cuts, cheeses, grilled polenta, pickled vegetables.
LAKE GARDA PIKE
In sauce with grilled polenta.
Large Salads

"THE FISHERMAN"
Venus rice salad, julienne of vegetables and Mediterranean tuna.
"VEGETABLE RAINBOW"
Quinoa, courgettes, radicchio, sweet and sour onions, olives, fried polenta and sunflower seeds.
"THE CYCLIST"
Sprawled salad, with stracciatella, cured salted meat, carasau flatbread and buckwheat seeds.
Our Sandwiches
All served with French fries and our burger relish…
PLATFORM 1
Toast with fontina cheese and ham.
PLATFORM 2
Club sandwich, cooked ham, mayonnaise, salad, tomato, chicken and bacon.
PLATFORM 3
Burger of Garronese veneta 200 gr, Stanga cheese, caramelized onions, bacon, salad, tomatoes.
PLATFORM 4
Veggieburger Curcuma bread with grilled vegetables, salad, dried tomatoes and stewed onion.
PLATFORM 5
Piadipizza with Parma Crudo 24 months, stracciatella Pugliese and rocket.
First courses

TORTELLINI DI VALEGGIO
With butter and sage.
TORTELLI
all'italiana style
MACARONI
With bolognaise or tomato sauce.
TORTELLINI OR FETTUCCINE GLUTEN FREE
Side dishes

VEGETABLES
Grilled, seasonal.
RUSTIC POTATOES
Baked in their jackets.
MIXED SALAD
Pizzas

MARGHERITA
Tomato, mozzarella and fresh basil.
MARINARA
Tomatoes, garlic oil, origan.
BUFALINA
Tomato, Buffalo's mozzarella and fresh basil
DIAVOLA
Tomato, mozzarella and spicy salami.
PROSCIUTTO & MUSHROOMS
Tomato, mozzarella, ham and mushrooms.
CAPRICCIO
Tomato, mozzarella, mushrooms, olives, artichokes, ham.
ROMANA
Tomato, mozzarella, anchovies, cappers and origan.
TUNA AND TROPEA ONIONS
Tomato, mozzarella, tuna and red onion.
RICH VEGETABLE GARDEN
Tomato, mozzarella, seasonal vegetables.
LITTORINA
mozzarella, tomatoes, carne salà, rucola and grana cheese.
CALZONE
Tomato, Mozzarella, champignon, ham, ricotta.
THE ARCHITECT
Tomato, mozzarella, Parma ham and rocket.
THE CHEF
Sun-dried tomatoes, anchovies and burrata.
LA CASALINGA
Tomato, mozzarella, grilled courgettes, Philadelphia and bacon.
LA VEGANA
tomato, rice mozzarella and seasonal vegetables
LA JAZZ
tomaten, mozzarella, tuna, cappers, artichokes and spicy salami
CAPOSTAZIONE
gorgonzola,artichokes, mozzarella, smoked ricotta, zucchini,cherry tomatoes and smoked pork loin
Second Courses

MEDITERRANEAN SEA-BASS
Grilled.
MARINETED CHICKEN
with baked potatoes.
LITTORINA SPIT-ROAST
1 kilo mixed meats, served with roasted potatoes, for 2 persons.
RIB OF BEEF
Grilled
GARRONESE VENETA T-BONE STEAK
1 kilo (for 2 persons).
THE FRIENDSHIP STEAK
an imperial cut of meat around 5/6 kg, ON BOOKING

Fried dishes
FRENCH FRIES
FRIED TORTELLINI
COULI FLOWERS WINGS
slightly spicy.
BREADED MOZZARELLA
JALAPENO CHEESE
ONION RINGS
Kids' Menu

MACARONI
With the chef's tomato or ragù.
BABY CHICKEN SCHNITZEL
With French fries.
WURSTEL AND FRENCH FRIES
White pizza

BORGO STATION
Mozzarella, gorgonzola, spicy salami and red onion.
THE LOCOMOTIVE
Mozzarella, brie, zucchini and speck.
5 CHEESES
Mozzarella, ricotta, gorgonzola, brie, parmesan.
FAVOLA
mozzarella, stracciatella, mortadella Favola, pistachi.
ALSO AVAILABLE WITH GLUTEN-FREE PIZZA DOUGH